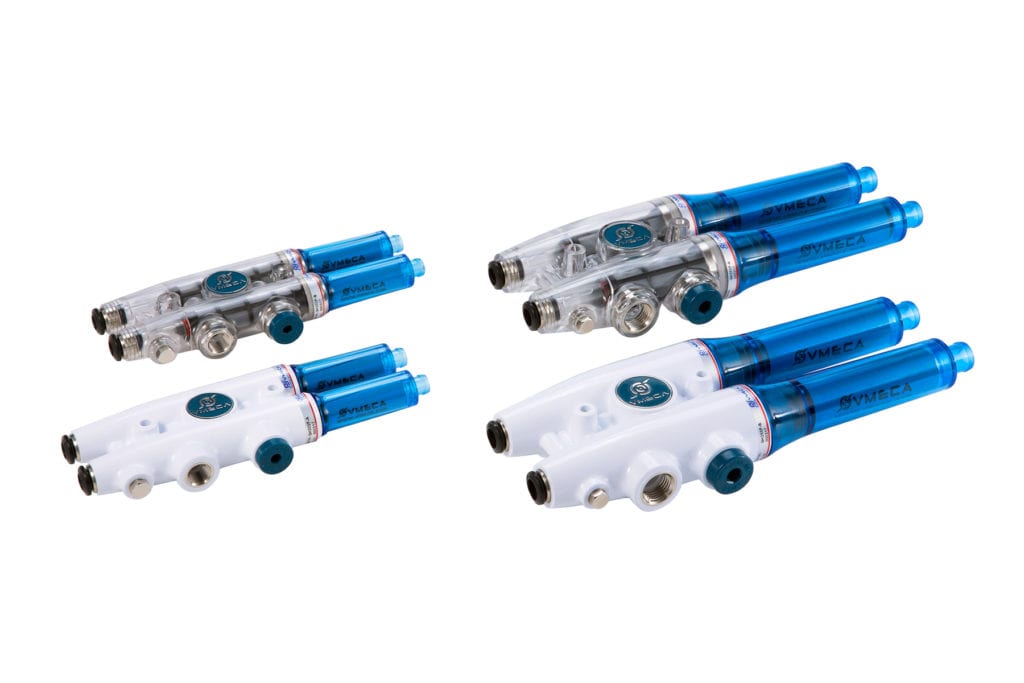 Eco-friendly operation and integrated dust filters make the new Green Pump range of vacuum pumps from Simmatic an ideal choice for use in the food and pharmaceutical industries as well as in other applications where hygienic operation is an essential requirement.
Green Pumps feature compact and lightweight yet robust construction, which makes them easy to accommodate even when space is limited. In addition, their fast response time allows the vacuum to be switched on and off almost instantly. Typical applications include pick-and-place systems where products must be gently yet securely lifted and transported.
Based on proven and dependable vacuum cartridge technology, Green Pumps operate from compressed air supplies in the range 4 to 6 bar, and are available in versions that deliver vacuum levels from 75 -kPa to 94 -kPa. Thanks to their innovative design, the pumps are very economical in their compressed air consumption, and they maintain steady vacuum levels even if the air supply pressure fluctuates. The Green Pump range includes single- and dual-cartridge versions to cater for an exceptionally wide variety of application requirements.
All versions have an integrated high-performance dust filter that is capable of removing and retaining large amounts of contaminants. The filter is easy to access and is mounted in a clear receptacle so that users can see instantly when replacement is due. The filter not only ensures exceptionally hygienic operation for vacuum pumps in the Green Pump range, it also extends their working life.
Simmatic offers expert support on all aspects of vacuum systems and applications, including advice on the selection and use of products in the Green Pump range. The company also provides fast delivery and competitive pricing on Green Pumps and many other standard and customised products for vacuum applications.