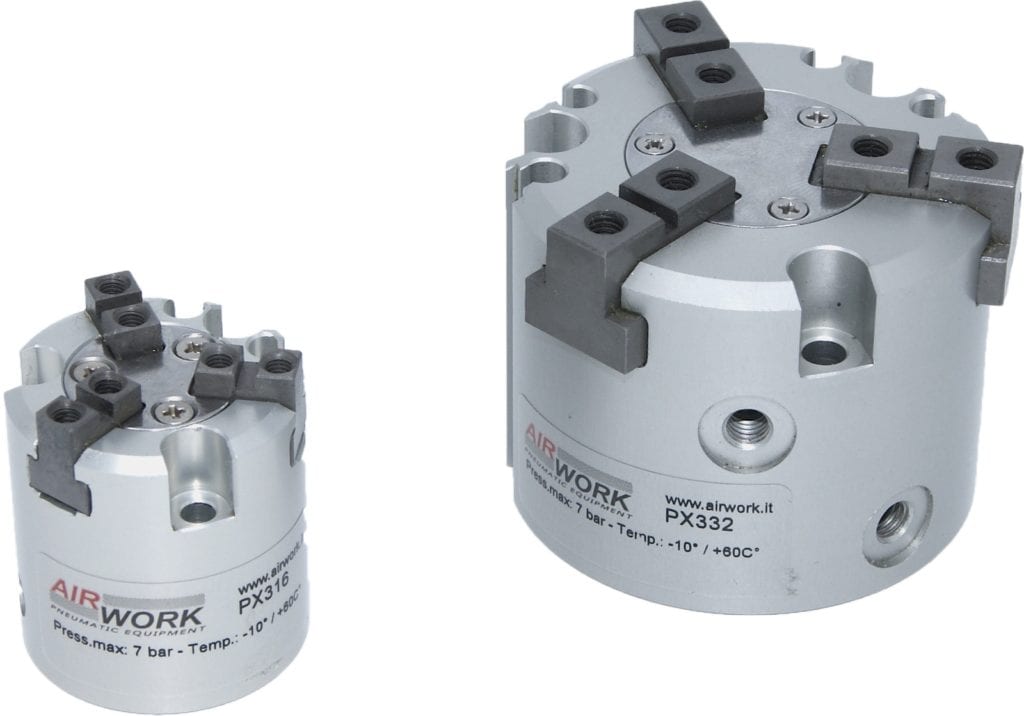 Automation specialist Simmatic has been appointed as a UK distributor for Airwork "mini hands" pneumatic grippers. This versatile and comprehensive range of grippers offers attractive and cost-effective solutions for product manipulation and pick-and-place applications, particularly where space is at a premium, and where vacuum grippers are not suitable.
Airwork grippers from Simmatic are available in a variety of configurations: angular, angular with 180° opening, long-stroke parallel, guided parallel and three-jaw parallel.
The angular pneumatic grippers feature ergonomic and compact design and can be assembled in multiple ways, to exactly meet the needs of the application. To further extend their versatility, they can be fitted with magnetic switches in any of their four sides. They are complemented by angular grippers with a 180° opening, which are an ideal option where space is limited or where fully retractable jaws are required to avoid possible impact with other machine components. Grippers with 180º opening can be fitted with magnetic switches on their two principal surfaces.
Long-stroke parallel grippers in the range are used to move larger components and, with three different stroke options for each size, they cover multiple application areas. Thanks to an internal rack-and-pinion arrangement, the opening and closing movement of gripping jaws is always synchronized, which guarantees centring of the item being gripped. Magnetic switches can be added in pre-machined slots.
Designed for precise handling and excellent repeatability, guided parallel grippers provide an optimum combination of compact size and gripping force. They incorporate a roller system to minimise friction and can be mounted in any orientation. Magnetic switches can be added on all four faces.
Three-jaw parallel grippers are primarily intended to be used for manipulating round components. They achieve precise operation thanks to the synchronised closure of the jaws and the prismatic guides system, which makes them ideal for demanding applications such as pick-and-place machines and tool interlocking.
Simmatic's experienced engineers provide expert support on all aspects of vacuum and pneumatic systems and applications, including advice on the selection and use of products in the Airworks "mini hands" pneumatic gripper range. The company also offers fast delivery and competitive pricing on both standard and customised products for vacuum and pneumatic applications.