Simmatic Automation have been a member of the PPMA Group of Associations for many years and regularly attend PPMA shows and exhibitions. Established in 1987, PPMA (Processing and Packaging Machinery Association) is the UK's trade association for suppliers of processing and packaging machinery to both the domestic and overseas market.
Simmatic offer broad experience within the packaging industry. In fact, our packaging vacuum handling solutions are some of the best in the world! Our products regularly feature in Machinery Update magazine and online – the official publication of the PPMA.
Here's Simmatic Automation's recent advert in 'Machinery Update' highlighting VMECA's V-Grip: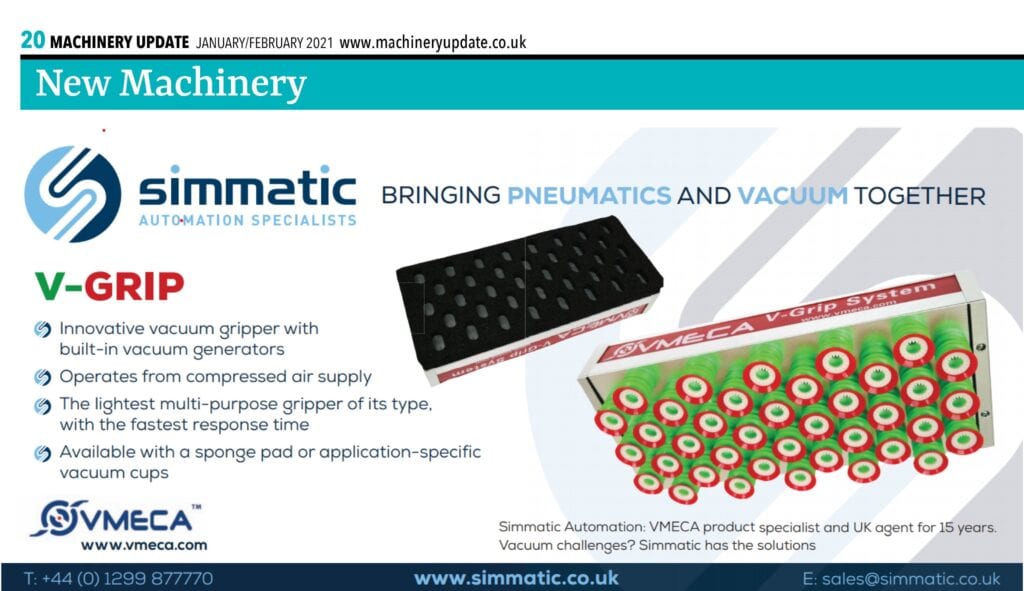 The V-Grip can handle multiple processes increasing the productivity and efficiency of your business. To pick and place packaged olives we used VMECA's NEW Mini V-Grips and the larger V-Grip with Magic Gripper option, both fitted with EPDM sponge. Can be populated with small vacuum cups instead of sponge.
Every industry has unique material handling requirements but one thing they have in common is the demand for efficiency, speed, and a safe working environment. Simmatic Automation offer high-performing vacuum solutions designed to meet the needs of your business. Check out two of our newest products:
Premium Speeder (PS200 Series) With its unique design & structure the vacuum nozzle inside the vacuum generator does not clog with dust, particles or water.