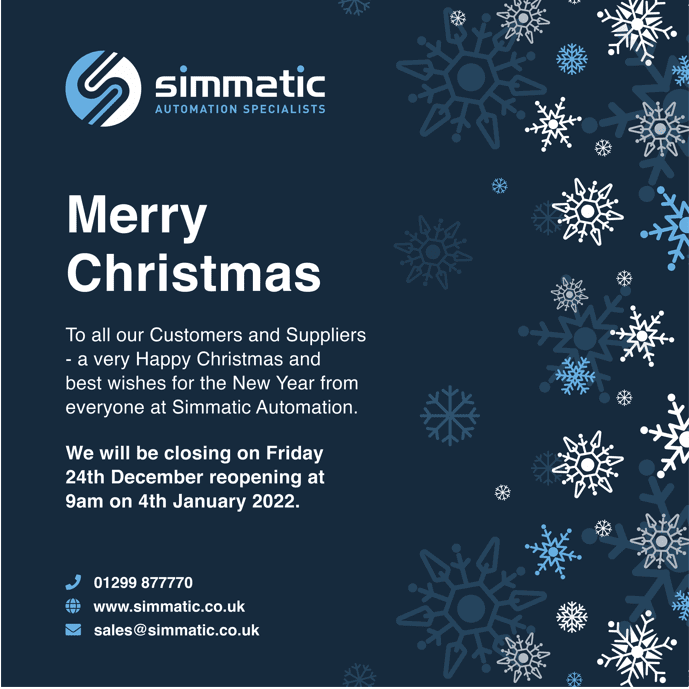 From all the team at Simmatic Automation Specialists Ltd we would like to wish our customers and suppliers a very Merry Christmas and a Happy New Year! We're looking forward to working with you again in 2022. Simmatic will be closed for the seasonal break from Friday 24th December, re-opening at 9am on Tuesday 4th January 2022.
Follow Simmatic Automation:
Simmatic Automation Specialists supply vacuum and pneumatic handling products to numerous industries such as, food and drink, manufacturing and automotive. Established in 1997, Simmatic are a Worcestershire based company; our experienced team of Engineers have extensive expertise in industrial handling solutions, offering the latest in technological developments to meet and exceed our customers' needs. Challenge Simmatic Automation Specialists with your difficult-to-handle products!
Our innovation is achieved through representing forward-thinking companies such as VMECA and Airwork. VMECA's compressed air driven vacuum pumps have astonishing potential for pick and place robotics and handling applications. Here at Simmatic we're specialists in helping customers choose the right product from the range. We do far more than just offer a catalogue of products. Simmatic offer a proposal for a problem, working closely with our customer to make sure the kit will work how they need it to and providing a tangible solution for our customer to use with confidence. In fact, we actively invite companies to "Challenge Simmatic Automation Specialists with your difficult-to-handle products". We'll mock a concept, test different vacuum solutions with samples and create a video for our customer showing the results.
With Simmatic's impressive track record of addressing these kinds of challenges, you're almost guaranteed to have your vacuum handling problem solved. Whether its boxes, pouches or sachets, Simmatic Automation Specialists will provide an optimised and reliable vacuum solution to handle your products with ease.
Merry Christmas from Simmatic!