Earlier in 2021 Simmatic Automation welcomed Thomas Greenow-Langford and Ali Nalbant to the team. As we head towards 2022, we asked them both to sum up their time with us so far…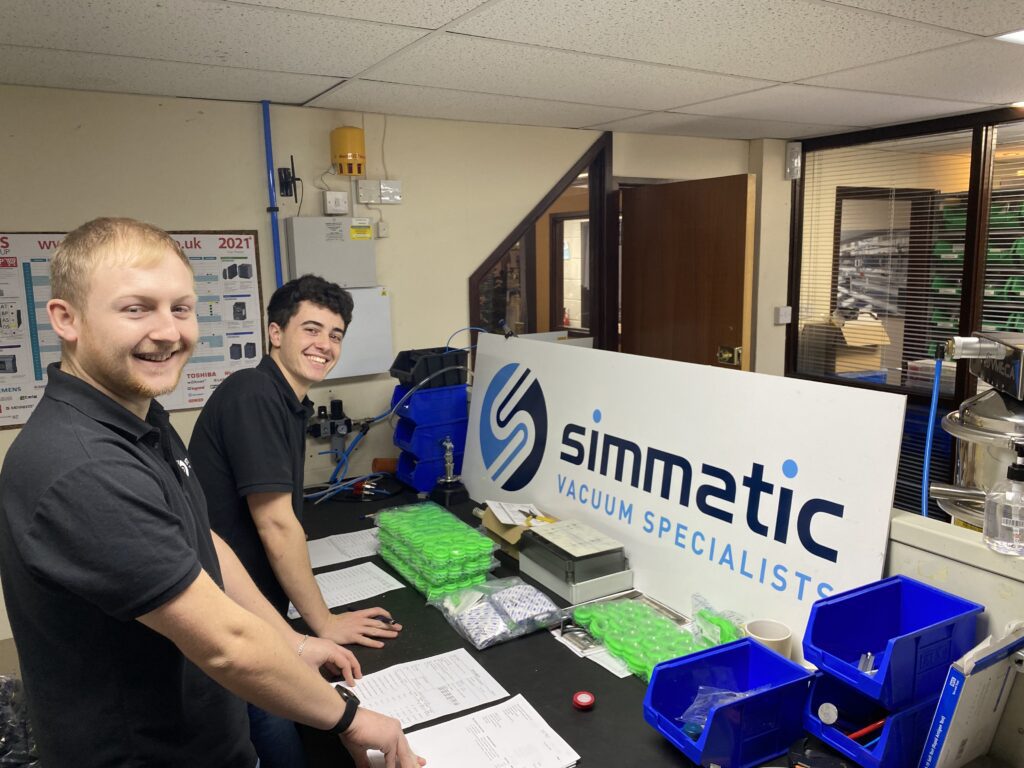 Thomas Greenow-Langford: External Applications Engineer
Working at Simmatic Automation Specialists Ltd is like no place I have worked previously. Each day is different, genuinely different! One day I can be sat in the office designing a steel structure to sit the impressive VMECA vacuum conveyors for a chemical processing plant, the next I am 150 miles up North installing five of our own internally designed 3D printed replacement delta robot vacuum grippers to pick and place biscuits.
What is equally as impressive as the fast paced rapidly changing landscape for Simmatic is the team which constantly adapts and improves around that landscape. Not only are they all incredibly hard working, but they are also all incredibly easy to work with and make coming to work an absolute pleasure. It just goes to show, work doesn't have to feel like work all the time and being a part of this great company has proved it for me. From the moment I walked through the door on day one I have felt completely at home, getting up for work is no longer a chore and Sunday evenings are no longer a countdown to the dreaded Monday morning blues!
Ali Nalbant: Apprentice Engineer
I joined Simmatic Automation Specialists Ltd on 6th September 2021. Right from the start the team at Simmatic have been very welcoming; they've really helped me develop as an engineer and given me the skills to use in and outside of work. They always find me new and interesting jobs to do by myself and I am more frequently being involved with bigger, more complicated jobs to further enhance my knowledge in vacuum and pneumatic solutions. As a result, I now have much more confidence in trying new things. I've had such great support, whether I'm building a pneumatic panel using a schematic or conversing with customers over the telephone or via email. I have gathered a vast amount of knowledge about VMECA product ranges and other numerous goods Simmatic have to offer customers to fulfil their needs. I would personally like to thank the team at Simmatic as I could not have had a better start into the engineering world.
Simmatic Automation will be closing for Christmas & the New Year Break on Friday 24th December 2021 and reopening on 4th January 2022.