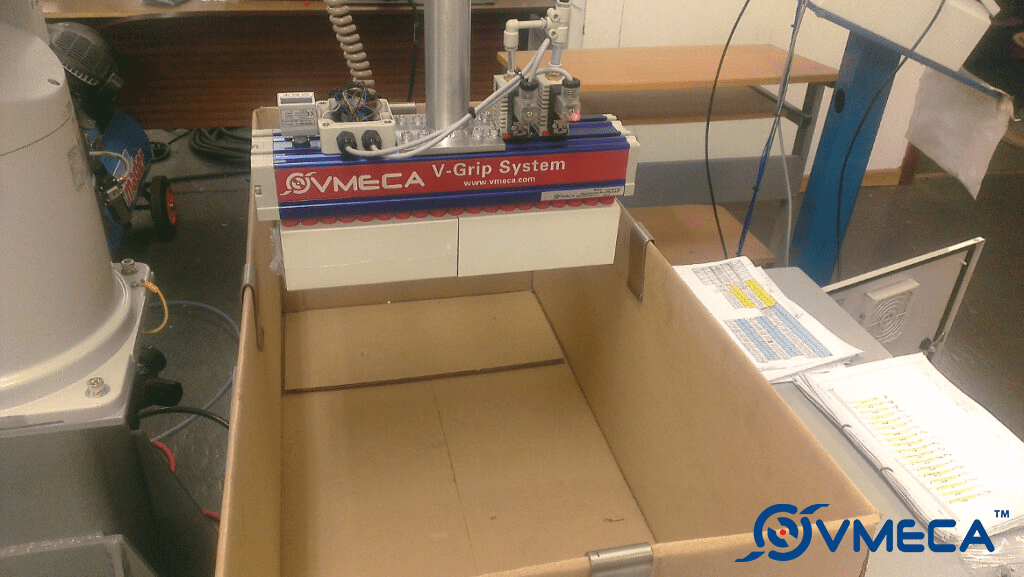 Company: Simmatic Automation
---
Category: Innovative Ancillary Equipment
---
Project: Medical products pick-and-place machine upgrade
---
Company Profile 
Simmatic Automation is an expert in developing and implementing automation solutions based on vacuum and pneumatic technologies. The company has been in business for more than 20 years, and its customers include many of the UK's largest manufacturing organisations. Simmatic Automation employs five people and has an annual turnover approaching £1 million.
Summary
Motion control specialist CR Solutions asked Simmatic to develop a vacuum pick-up head for a robotic pick-and-place machine handling small shrink-wrapped boxes of delicate medical items. The boxes had to be picked up in groups of five and transferred to a shipping carton.  Challenges included loose shrink-wrapping on the boxes and the depth of the shipping carton, which meant that it was essential for the pick-up head to go into the carton when depositing the first few layers of boxes. The Simmatic solution uses a compact custom-designed lifting head with 21 lifting cups and an integral vacuum generator.
Simmatic merits an award for this project because it has produced a reliable and cost-effective solution to a commonly encountered problem – that of packing boxes of small, delicate products into deep cartons ready for shipping. The solution developed by Simmatic for CR Solutions is convenient, energy-efficient and replicable for other similar applications. In addition, the vacuum system has no moving parts, which means that reliability is high and maintenance requirements minimal.
This project is typical of the work for which Simmatic is renowned, and this makes it difficult to assess its impact on the company's financial performance or market share. There is no doubt, however, that success in this and similarly challenging projects will enhance Simmatic's reputation with existing and potential customers, large and small.
Entry
The challenges
A specialist supplier of medical products packs items from one of its most popular ranges into cardboard boxes. Various sizes of box are used, but all are small – no more than 100 mm per side – and all are light in weight. The individual boxes are shrink-wrapped, but because of the fragile contents, tight shrink wrapping cannot be used. This means that the wrap film has seams and tends to form bubbles, which makes it difficult to lift the boxes reliably.
When CR Solutions was developing a robotic packing machine for these boxes, one of the key components needed was a vacuum head that would pick five of these cartons at a time from a conveyor then place them into deep shipping cartons. The head was to be fitted at the end of a robot arm, so it needed to be light and to have a minimum of piped connections.
A further challenge was that the pick-up head, complete with its associated vacuum generator, had to be small enough to fit inside the shipping carton so that the boxes could be placed gently into position, even when they were part of the first layer at the bottom of the box. The head also had to be designed so that the boxes could be placed right into the corners of the deep carton, without any risk that the head would damage the carton.
The solution
Simmatic carried out extensive trials with sample boxes to devise the most convenient, reliable and cost-effective solution. The use of a sponge lifting pad was soon ruled out because it could not be relied upon to provide a consistently good seal with the somewhat irregular surface of the shrink-wrapped boxes.
The Simmatic engineers, therefore, trialled an 80 x 500 mm lifting head, fitted with 21 lifting cups arranged in three rows of seven. Each cup was 15 mm in diameter and was fitted with long bellows to help accommodate the varying height and irregular surface of the boxes. The head was equipped with a multistage vacuum generator, powered by compressed air. This compact device satisfied the requirement for a head that would fit within the shipping carton and, since it has no moving parts, offered the additional benefit of being maintenance-free.
While this prototype head worked well in most respects, it was not able to position the boxes right into the corners of the shipping cartons. To solve this problem, Simmatic developed a slightly smaller head measuring 80 x 335 mm, which was fitted with the same arrangement of lifting cups as the prototype.
The use of multiple cups was a big benefit in this application as, even if some of the cups were not fully covered when lifting boxes of a particular size or the irregularities in the shrink film made it impossible for some cups to achieve a good seal, the remaining cups would still maintain a good vacuum, ensuring that the boxes were lifted and transported securely.
A further benefit was that this arrangement allowed boxes that extended beyond the edge of the head to be lifted securely, which made it much easier to accurately place them along the edges and into the corners of the shipping carton.
The outcome
The pick-and-place machine, with its robot systems supplied and programmed by CR Solutions allied with the customised pick-up head devised by Simmatic, has now been extensively tested with every size of the box it is required to handle. It has delivered faultless performance, with no dropped boxes, no permanent deformation of the shrink-wrap film and no damage to the shipping carton.
As anticipated, the head's integrated vacuum generator works efficiently and almost silently. Since it has a fast response time and is located close to the pick-up cups, it needs to be switched on only when boxes are being lifted and transported. This means that it is much more energy-efficient than the alternative of an external motor-driven vacuum pump which would need to run continuously.
Shaun Corkish, the Senior Controls Engineer at CR Solutions, said "This was undoubtedly one of those projects that initially looks simple but is actually not. Many aspects of the job were challenging, and one of the biggest challenges was reliably lifting the product boxes without damaging them. Simmatic did a great job in helping us to achieve this and provided excellent responsive support at every stage of the project. Simmatic proved to be an ideal partner with genuine in-depth expertise and an outstanding product range."