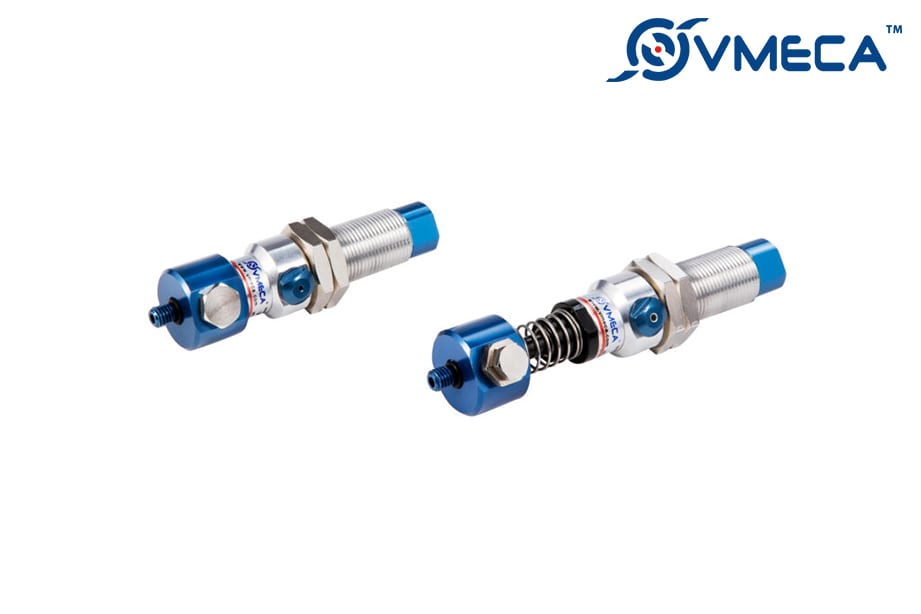 Pumps in the latest VCS range from vacuum expert Simmatic combine in the same body; a high-efficiency vacuum pump with no moving parts and a level compensator that allows the pump, when used with a lifting cup, to pick up items of different heights, or place at different levels. With both of these key components integrated into a single device, the new VCS pumps save space, time and money.
VCS pumps operate from a compressed air supply and incorporate high-efficiency VMECA vacuum cartridge technology which delivers reliable and stable performance even if the air supply pressure fluctuates. The vacuum cartridge has no moving parts and requires no routine maintenance. The pumps can optionally be supplied with a vacuum release valve, so items can be released quickly and reliably.
Pumps in the VCS range are compact in size and lightweight, making them an ideal solution for on-machine applications where space is at a premium. The VCS102 model offers a maximum vacuum level of up to 83 -kPa and a feed pressure of 2.2 bar. Its maximum vacuum flow is 16 NI/m, whilst the air consumption is 10 NI/m. Low noise levels of 50-55 dBA make this pump a particularly attractive choice for use in quiet environments.
The VCS202 pump boasts higher vacuum levels of up to 90 -kPa and maximum feeds of 7 bar. With a slightly increased air consumption of 32 Nl/m, the pump is still among the quietest on the market with noise levels ranging 55-65dBA.
Simmatic's talented engineers provide expert support on all aspects of vacuum systems and applications, including advice on the selection and use of products in the VCS Pump range. The company also offers fast delivery and competitive pricing on both standard and customised products for vacuum applications.